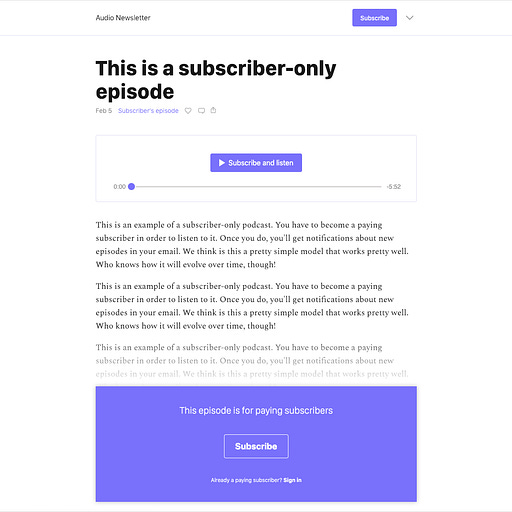 Feb 7, 2019 • 6M
Introducing Substack for audio
Product updates and perspectives on the subscription publishing model.
Today, we're moving into paid podcasts with the launch of a tool for audio publishing. The first Substack publisher to use the tool is Anthony Pompliano, who is launching a daily podcast for Off the Chain that will be available to his paying subscribers.
We've always believed that one of the great benefits of Substack is that you can subscribe to a person. That power is intensified when you can actually hear that person's voice.
Subscription podcasting through Substack works in the same way as publishing newsletters. Once the feature is enabled, you can create an audio post that is just like a normal post and can go out to everyone or only to subscribers. After receiving the post by email or accessing it on the web, subscribers can listen to the audio through the Substack web player. (Try it by listening to our special announcement episode right here in this post.)
It used to be that the web-player experience for audio wasn't great. In iOS, for instance, audio that was playing from a browser wouldn't keep playing once you switched apps or turned off the screen. These days, however, the web-player experience for audio is good, with persistent playback and controls that are accessible from the lock screen. With the Substack player, you can speed up the audio, too, so if you like to listen at 2x you'll be well looked after. We may soon add the ability to add a private feed of episodes to podcast players, but we like the web solution for now. (Give us your feedback, etc.)
We also like email being the distribution channel. When you are constantly bombarded by tweets, push notifications, and updates, receiving an email that gives you a direct link to a podcast episode just feels... sane. Plus, email is a decentralized system that avoids depending on platforms that may or may not be interested in helping you build a subscription business through a direct relationship with your audience.
Anthony has been doing amazing work with Off the Chain, so we're thrilled that he's pioneering this feature for us. The new podcast, Off the Chain Daily, will feature episodes of 10 minutes or less that discuss the hot issues of the day in crypto. Listening to an episode feels like receiving a personal audio-letter from a highly knowledgeable friend. It's a great format and one that we hope many other Substack publishers will use in the future.
Substack's audio feature is in private beta, but we'll be rolling it out to more people over the coming weeks and months. If you'd like to get your name on the invitation list, please fill out this application form.