Discover more from On Substack
Resources, news, and stories for and about writers. Written by the Substack team.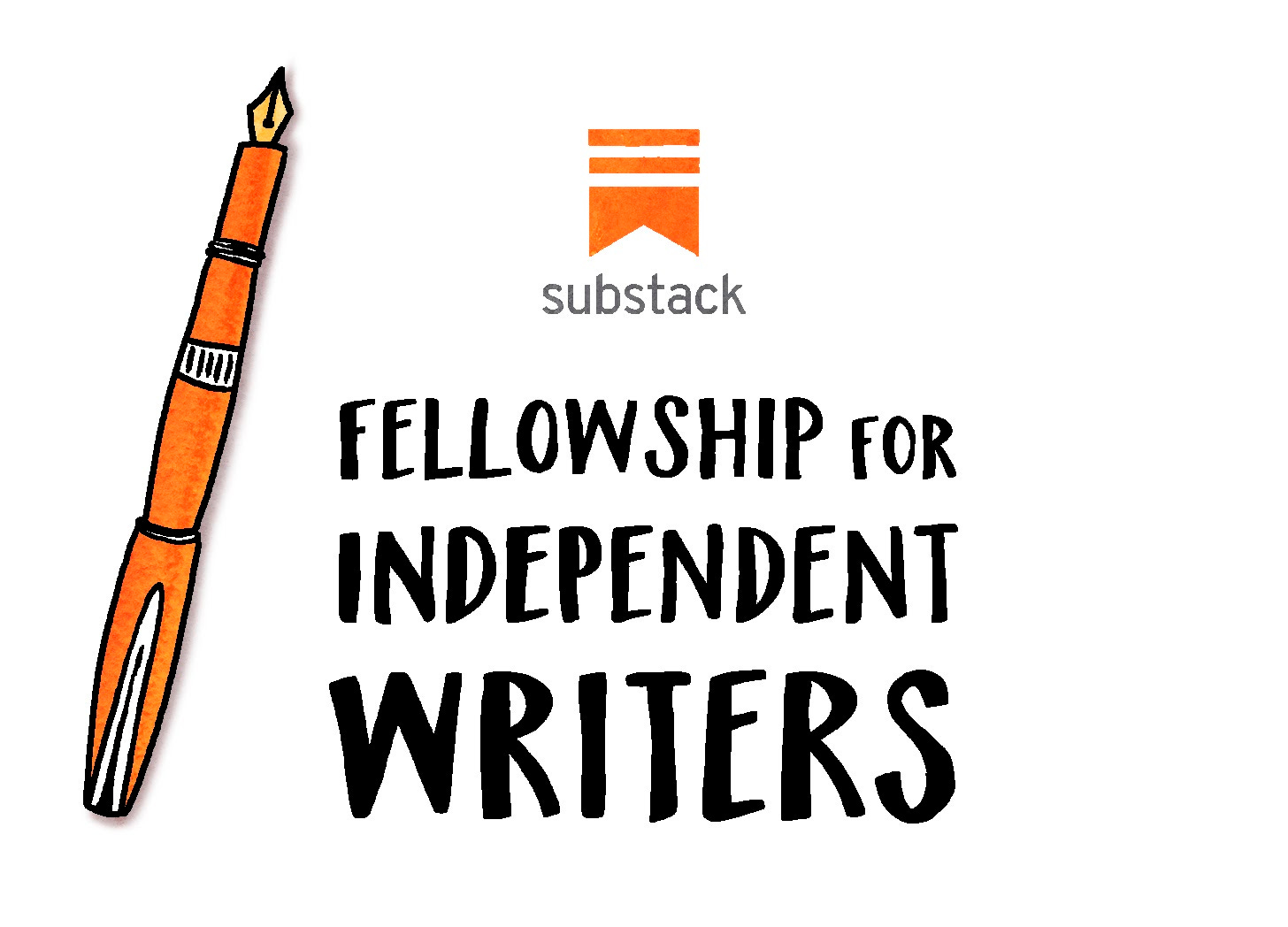 Today we're announcing the next generation of the Substack Fellowship for Independent Writers, which features a $100,000 grant for the top recipient and advances of $25,000 each for four other fellows. 
The purpose of the fellowship is to help writers go independent and succeed with the subscription publishing model. We were so encouraged by the success of the first Substack fellowship late last year that we decided to increase our investment in the program. As well as increased financial support, the fellowship includes access to resources and a two-week schedule of coaching and advice.  
There are now millions of active readers across Substack, and more than 100,000 paying subscribers to Substack writers. Our top writers make hundreds of thousands of dollars a year by doing the work they care about most and serving their communities of readers. We're excited about a future where writers of all backgrounds can pursue the work they find most meaningful, free of gatekeepers, and independent of what's trending, and we're eager to make it accessible to even more writers.
We've designed this fellowship to help accelerate a writer's journey to independence. The $25,000 advances for the four fellows, plus a no-strings-attached stipend of $3,000, and the $100,000 grant for a senior fellow will be coupled with coaching from a team of star talent with a focus on community building, personal finance, publishing strategies, and editorial development. We're also supporting the fellows with custom illustrations, access to Getty Images, legal advice, personal mentorship from Substack writers, and ongoing access to the team at Substack.
The fellows will be selected by a committee of three external judges – Emily Oster, Danyel Smith, and Bill Bishop – in collaboration with the Substack team. Applications will be accepted for two weeks from any writer, anywhere in the world, starting today, Tuesday, June 30, through Tuesday, July 14 at 5:00 pm PDT.  The program itself will take place through virtual sessions in the first two weeks of August. Please find more details about the program and experts involved below. Apply here and consult our Fact Sheet for more details. 
The fellowship remains an opportunity for us to learn what more we can do to support writers. We'll share everything we learn from experts and the participating writers with the rest of the Substack community, so stay tuned for resources and updates soon.
---
What you'll get from the fellowship program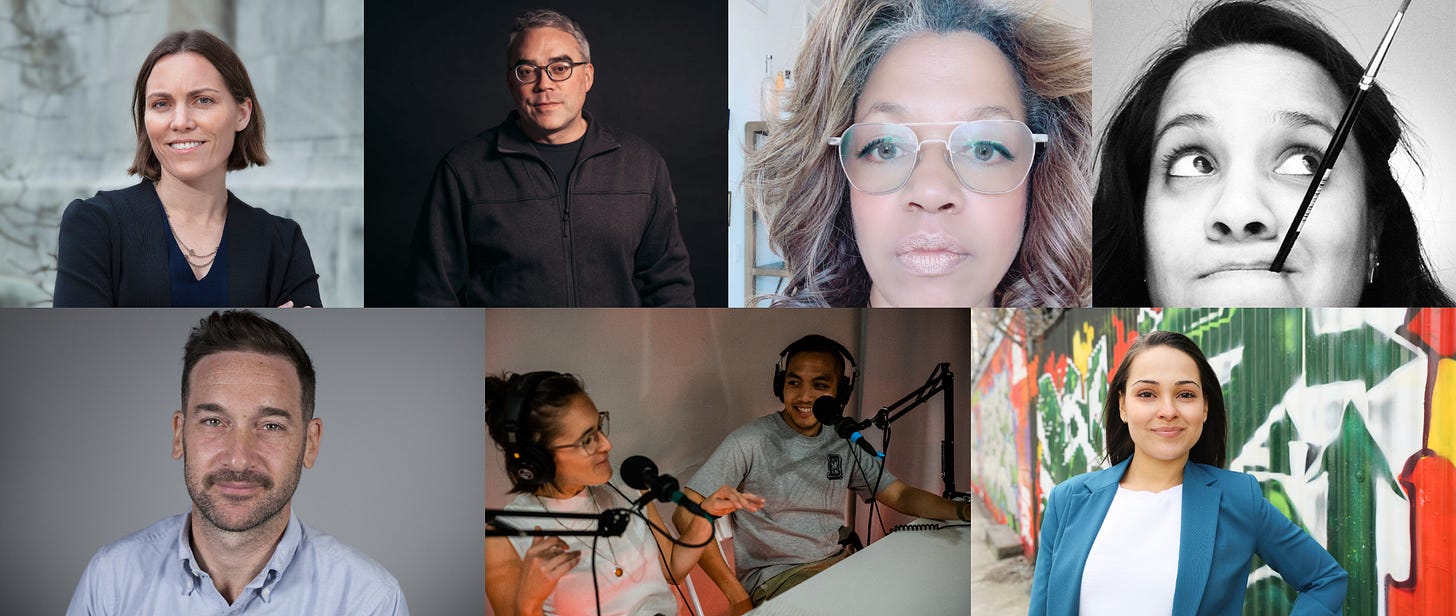 Clockwise from top left: Emily Oster, Bill Bishop, Danyel Smith, Krishna Chavda, Yanely Espinal, Kevin Huynh, Bailey Richardson, and Judd Legum. See bios and details below.
Selection committee
Your applications will be reviewed by our committee of judges:
Each judge has a deep familiarity with the Substack model, a strong publishing background, and deep expertise in their field. They will collaborate with the Substack team to make final selections.
Expert advice on growing your newsletter
We've hand-selected a few domain experts to work with our fellows on the following areas:
Access to fellowship alumni network
Last year's fellows, Emily Atkin, author of Heated, Lindsay Gibbs, author of Power Plays, Amee Vanderpool, author of Shero, Saeed Jones, author of The Intelligence of Honey, and Sarah Bessey, author of Field Notes, will host an alumni session to meet the new fellows, share advice and insights on their own experiences publishing on Substack, and answer questions.

And more!
Each fellow will also receive the following:
Dedicated sessions with, and support from, the Substack team.

Fellows will be assigned a Substack mentor – a writer publishing on Substack who shares a similar audience, editorial model, or writes about a common theme – who will be available for individual calls over the course of the program. Mentors will be paired up with the fellows after the final selection has been announced.

Custom illustrations: Krishna Chavda, who is the founder of NANU Studio, will create a custom, digital illustration for each fellow that can be used to promote and brand your publication.

Free access to Getty Images for digital use in your publication.
---
About our program mentors
Bailey Richardson is the co-author of Get Together and a founding partner at People & Company, an agency that coaches organizations on how to create authentic communities. She has helped shape the early communities around Instagram, IDEO, Pop-Up Magazine, and The California Sunday Magazine. She's also started a Mola Mola Fan Club and a Queer Pool Club.
Bill Bishop is an entrepreneur and former media executive with more than a decade's experience living in and decoding China. Since leaving Beijing in 2015, he has lived in Washington DC. He previously wrote the Axios China weekly newsletter and the China Insider column for the New York Times Dealbook.In the late 1990s, he co-founded MarketWatch.com. His views on China are frequently quoted in major media, such as Bloomberg, The Financial Times, The Wall Street Journal, Reuters, New York Times, and The Guardian and CNBC. 
Danyel Smith is author of the forthcoming Shine Bright: A Personal History of Black Women in Pop (One World / Random House, February 2021). Most recently, Danyel was a senior editor, writer, and producer at ESPN, and before that, a 2013-14 John S. Knight Journalism Fellow at Stanford University. She has served as editor of Billboard, editor-at-large at Time Inc, and was twice editor-in-chief of VIBE. Danyel is cofounder of HRDCVR, a design-centered hardcover media project created by diverse teams for a diverse world. She has written two novels — More Like Wrestling (Crown, 2003) and Bliss (Crown, 2005). Among other outlets, her work appears in the New York Times Magazine, at NPR, and in the California Sunday Magazine. Danyel lives in Los Angeles.
Emily Oster is a Professor of Economics at Brown University and is the bestselling author of Expecting Better and Cribsheet, a New York Times Bestseller. Oster has been featured on Good Morning America and Morning Joe. Her writing has appeared in the New York Times, the Wall Street Journal, The Atlantic and Slate among many other outlets. 
Judd Legum writes Popular Information on Substack. Before going independent, he was the founder and editor-in-chief of ThinkProgress. In addition to writing about politics, Legum has participated in it – running (unsuccessfully) for state delegate in Maryland in 2010 and serving as Hillary Clinton's research director during her (unsuccessful) 2008 campaign. He is a lawyer and practiced as a trial attorney in Maryland.
Kevin Huynh is a co-author of Get Together and founding partner at People & Company. Before this, he brought Classcraft to new classrooms, helped spread CreativeMornings to 100 cities, produced a worldwide dinner party, and got an M.S. in Mechanical Engineering. Today, he serves on the board of the Edcamp Foundation and volunteers time almost every day to coach grassroots community leaders.
Krishna Chavda is an illustrator and surface designer based in Hoboken, NJ, best known for her humorous drawings and illustrated greeting cards. Inspired by her childhood in Tanzania, nature, and her Indian heritage, Krishna's work is vibrant and playful. Her clients have included the University of Amsterdam, Food Network Magazine, The Village Voice, Time Out New York, Cleveland Magazine, Good Eggs, among many others. 
Yanely Espinal was born and raised in Brooklyn, New York, and is one of the first in her family to graduate college. After two decades of school, she still can't believe that she never had a class about making smart money decisions! Now, she's on a mission to help more people learn financial literacy in a fun and engaging way. After completing Teach For America, Yanely paired her love for teaching with her passion for personal finance, creating a unique YouTube channel for people to engage with topics like credit cards, budgeting, debt repayment, and investing. Yanely is also the Director of Educational Outreach at an education non-profit called Next Gen Personal Finance. 
Illustration credit: Krishna Chavda