Discover more from On Substack
Resources, news, and stories for and about writers. Written by the Substack team.
Hanging out in Marc Stein's 'virtual sports bar'
Some of the best NBA chat happens in the Substack app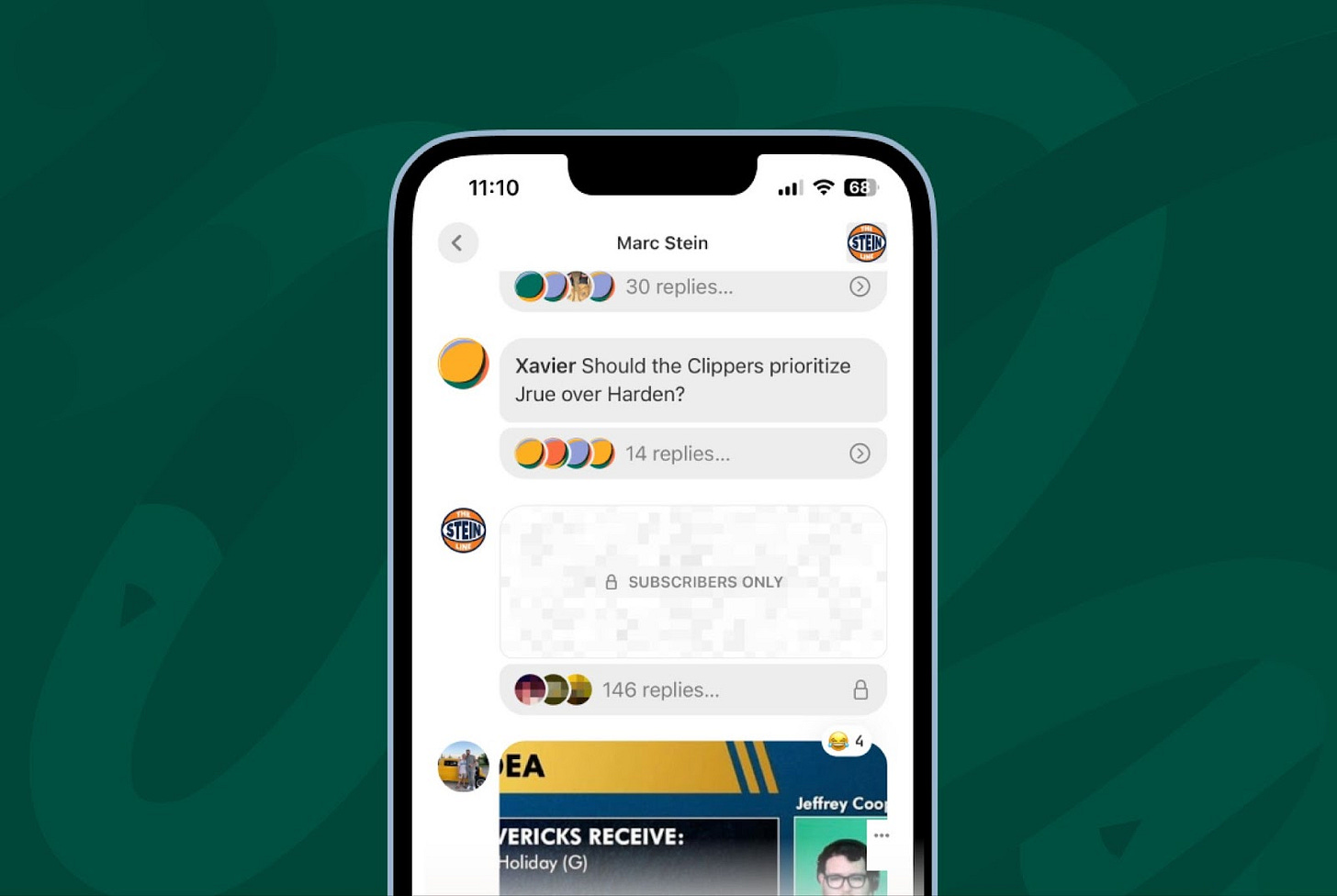 Former ESPN and New York Times reporter Marc Stein hosts one of the liveliest Chat communities on Substack, through his publication The Stein Line. Marc's following of fervent NBA fans gathers in the Substack app every day to discuss the latest trades, player developments, and dramas in the sport. We asked him to write about how this community developed and how he uses Chat to go deeper with his subscribers—and he kindly obliged! Read on.
When I was hired by ESPN, very early in the 21st century and likewise in the nascent days of the digital sports coverage boom, hosting online chats to create direct dialogue with the audience was a weekly staple.
I can't remember why, exactly, such chats gradually faded from the usual menu of ESPN.com offerings, but I was thrilled when Substack enabled me to resume that tradition by providing its publishers with the modern version of chat functionality in November 2022: a wonderful, welcoming meeting space for author and reader to convene known as Substack Chat.
Can you imagine a private Slack-like channel for me to connect with The Stein Line's subscribers for topical and personal conversations whenever we want? Can you imagine our very own exclusive getaway from NBA Twitter? Can you imagine a place where subscribers—this is the truly modern bit—can start their own chat threads that a writer they enjoy reading sees and jumps into?
Substack Chat is all those things to everyone in The Stein Line community. On my particular Substack, I have elected to enable only paid subscribers to The Stein Line to possess the ability to launch their own threads, as a thank-you for their critical support for my work. And I host a regularly scheduled exclusive chat session for those same paid subscribers, akin to the old ESPN.com chats, on most Fridays.
To try Chat with your subscribers, download the Substack app or visit substack.com/chat
They're always well-attended and lead to spirited Q&As that invariably feature reader Ro imploring me to deliver some fresh Pistons news ... and Nancy urging me to provide her with a good reason (or any reason) to make 76ers fans feel better about the latest chaos to engulf their franchise ... and Charlie Saturday stumping me with a multilayered query way too complex for me to answer on the spot. And, of course, more Mavericks fans than I can count beseeching me to breathe life into the Clint Capela trade talks that have long since gone dormant.
These gatherings are so fun because the community just keeps growing, and pretty much everybody knows everybody. We talk hoops, we agree and disagree, and we maintain a respectful tone that doesn't always greet you on other social media platforms.
But that's not even the best part. My favorite aspect of The Stein Line chat room has evolved in recent months, when various members of our community began racing to post league news items in Substack Chat to make sure everyone was seeing the latest NBA developments. The practice stuck, and now you can pretty much count on any news happening in the NBA getting its own devoted chat thread in The Stein Line's Substack chat room as soon as it becomes public.
Maybe it's because there's a part of me that thinks I always wanted to own a bustling restaurant—or the more likely explanation, that I am just overly obsessed with food and dining out—but I couldn't help but make this comparison in restaurant terms: My goal with Substack Chat was to create a virtual sports bar for us to hang out in anytime and go back and forth on NBA matters.
I naturally want to find ways to ensure that paid subscribers to The Stein Line are getting as much as possible in return for their investment to support my work covering #thisleague as an independent journalist. The hope here is that our chats offer a deeper level of connection (because they're live) even compared with the comments section under my stories (which tend to generate their own pretty robust dialogue).
These sessions can erupt at any hour, too. Just last month, we've done some good chatting after 11 p.m. ET on a Tuesday upon learning that Christian Wood had committed to signing with the Los Angeles Lakers—followed by an early Friday morning watch-along gathering while the United States played Germany in the semifinals of the FIBA Basketball World Cup in the Philippines.
The writing—four posts a week generally—will always be the lifeblood of my Substack, but my Substack Chat is the VIP lounge where I try to provide that added layer of connectivity that only strengthens our author-reader bond.
Here's to a great year 2 for all of us in Substack Chat. And if you are interested in sampling some of the smartest NBA discussion out there—in a sphere rife with civility—please join us!
Marc Stein, formerly of ESPN and the New York Times, is publisher of The Stein Line on Substack.