Discover more from On Substack
Resources, news, and stories for and about writers. Written by the Substack team.
New on Substack: More flexibility for paid subscriptions
Through good times and bad, we've seen that readers are excited to support the writers they're subscribed to. We've released several new features to help you customize your paid subscription offerings, whether it's giving readers ways to offer extra support or just taking a step back for a bit.
Customize your Subscribe page benefits
You can now customize the list of benefits that appear on your Subscribe page: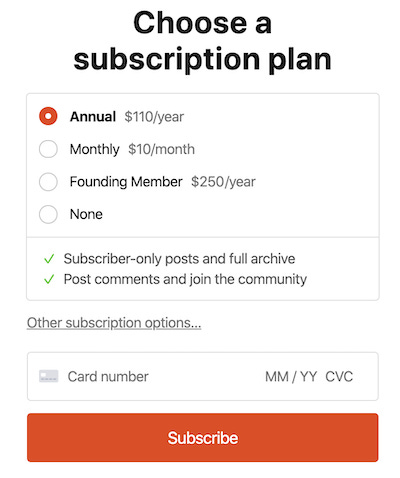 To edit this section, go to your Settings page and scroll down to "Subscription benefits":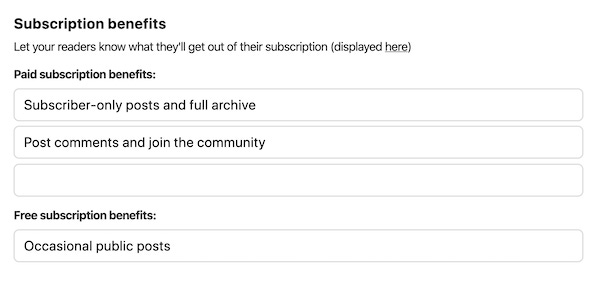 Add an extra Supporter tier
You can now add an additional subscription tier that allows your readers to pay more than the regular plan. If you add this option, it will appear on your Subscribe page along with your regular plan.
To add a Supporter tier, go to your Settings page and scroll down to "Supporter subscription plan." Click "Turn on", then add details:
Pause paid subscriptions
If you'd like to take a break from writing, you can now pause your paid subscriptions, which will suspend billing cycles for all of your active subscriptions.
To pause your subscription, go to your Settings page and scroll down to "Pause subscription billing":

While your subscription is paused, your existing paying subscribers still have access to your previous paid content. New readers will be unable to purchase a paid subscription, although they will still be able to sign up for your free email list.
---
In times of uncertainty, we've been heartened to see how writers are using paid subscriptions to make money from their work:
Nathan Tankus started Notes on the Crises, a newsletter covering the current economic conditions. After adding paid subscriptions to support his public posts, the outpouring of reader support encouraged him to start adding more in-depth, premium posts.
Husband and wife Chris and Alex Perrin started Cut Seven, a newsletter for the Washington, D.C. fitness gym they cofounded, to offer remote-based workout plans to their members. While their gym is temporarily closed, they've used paid subscriptions as an opportunity to offer new options to their members and create an additional revenue stream in the process.
Clara Parkes started The Daily Respite, a free newsletter offering a daily nugget of relief from day-to-day stress, with a paid option as a way for readers to show extra support. The positive response inspired her to start regular "community conversations" on Friday afternoons as a way to bring her paying subscribers together.
We hope these new features will encourage you to experiment with what's possible on Substack.