Discover more from On Substack
Resources, news, and stories for and about writers. Written by the Substack team.
New on Substack: Publishing tools for teams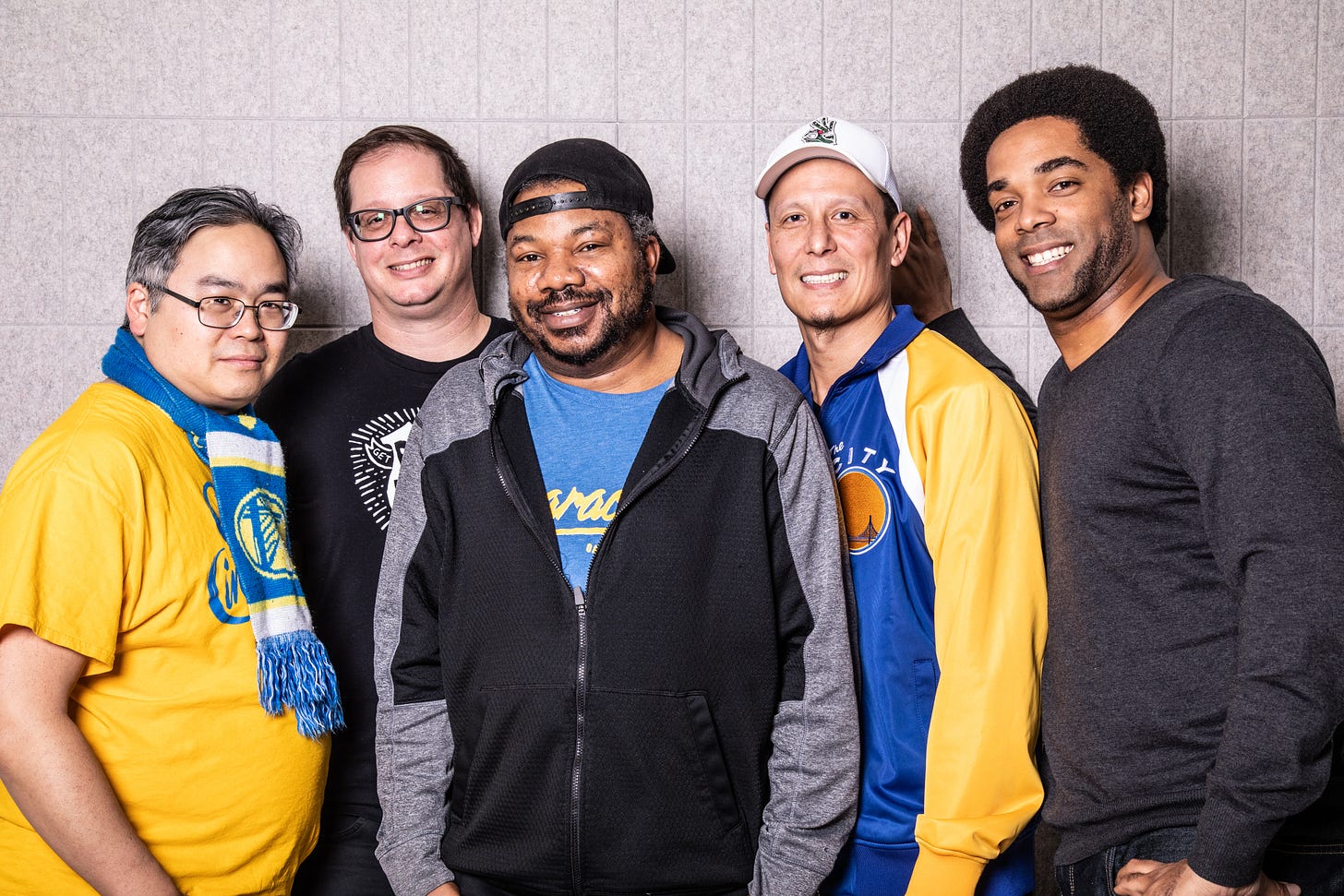 Today, we're expanding what's possible on Substack by introducing new tools to allow groups of writers to work together on publications. These tools make it simple to spin up a group publication with a built-in monetization option in a matter of minutes. 
The new features include: 
Multi-admin access to a publisher dashboard

Support for multiple bylines in a publication 

A new, more visual publication homepage that showcases more posts per page 

The ability to pin featured stories to the top of a publication homepage 

Author profile pages

A "People" page that lists author bios
(Below are examples of the new homepage, author profile, and People page.)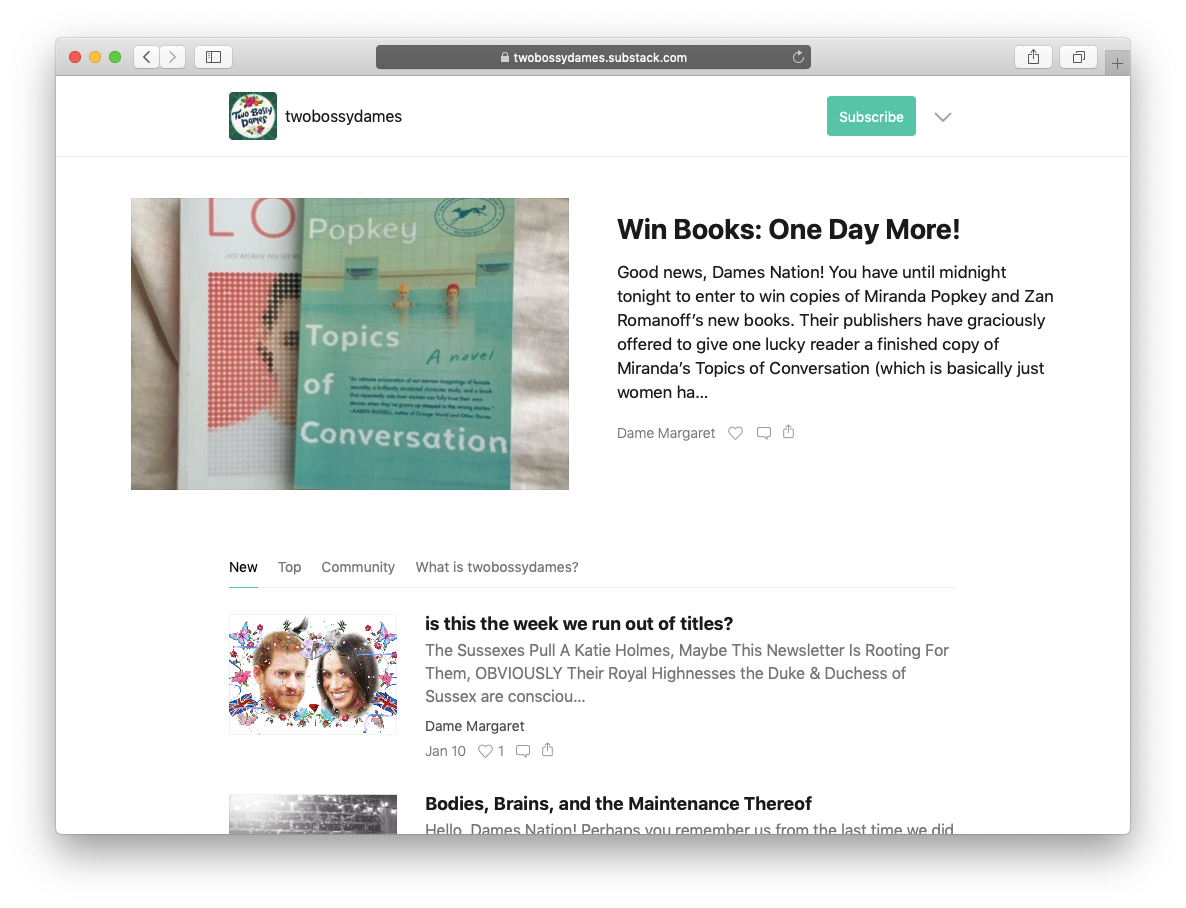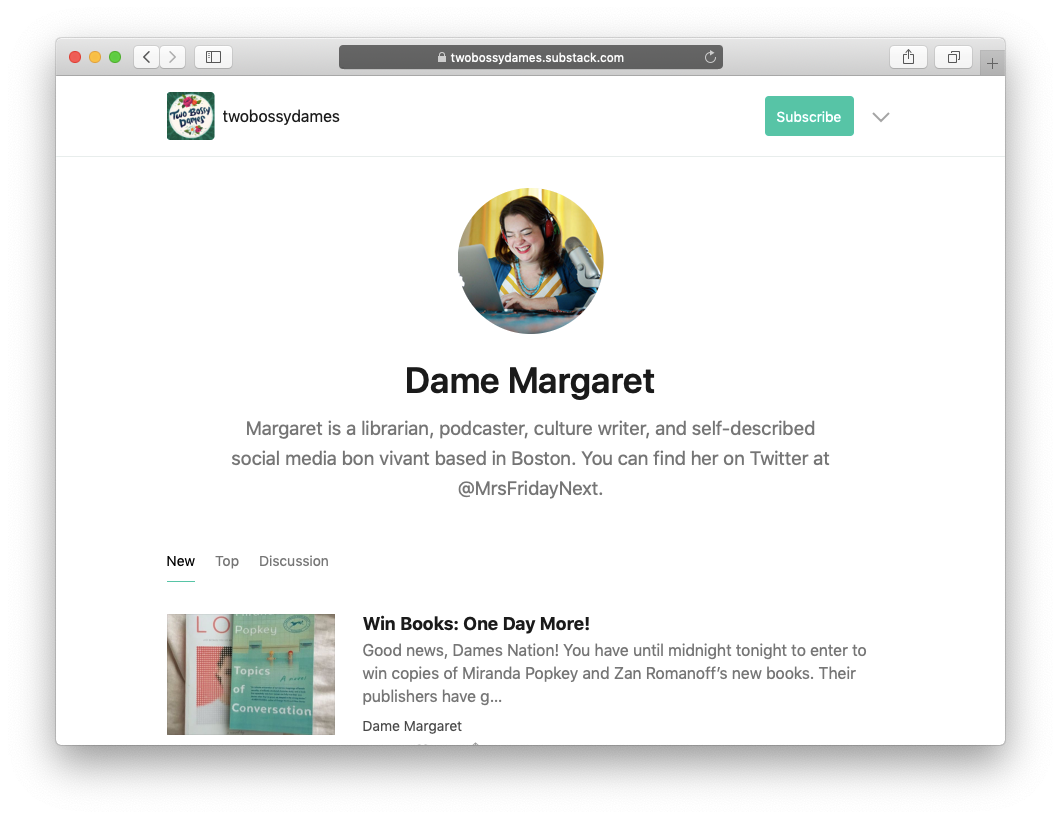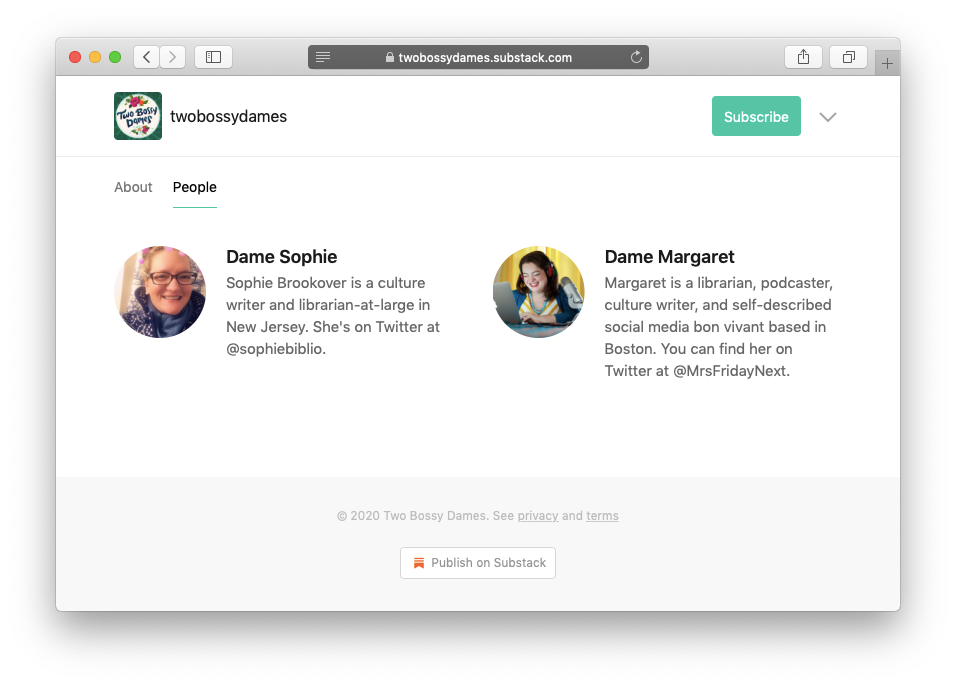 Anyone on Substack can take advantage of these new capabilities immediately, but we are launching the features with four partners: 
Let's Go Warriors, a basketball blog about the Golden State Warriors. Produced by a team of writers (pictured above), the blog was until recently part of Vox Media's SB Nation under the name Golden State of Mind. They left Vox Media after the company laid off hundreds of freelancers in response to California's AB5 law, which requires any writer who publishes more than 35 articles for a single outlet to be classified as an employee.

Two Bossy Dames, a pop culture community and one of the first publications on Substack, published by librarian-essayists Margaret Willison and Sophie Brookover. 

Asia Sentinel, an award-winning independent investigative news site published by a team of veteran newspaper journalists in Asia.

TrueHoop, a leading voice in NBA media since 2005, led by Henry Abbott, an ESPN veteran and blogging pioneer. 
With Substack, teams of writers can start publications with zero startup costs and a built-in business model that has proven to be effective. These writers don't have to worry about tech setup, subscriber management tools, or a customer support team. We take care of everything except the hard part: the writing itself. 
A publishing model that works
When we started Substack, we focused on individual writers who wanted to set up their own paid publications. This was the simplest expression of a media ecosystem that better aligned incentives between platform, writer, and reader. That approach has worked. Substack has helped bring to life an array of publications that deliver sustainable revenue for writers and satisfying experiences for readers. To highlight a few: 
Emily Atkin quit her job at The New Republic to start HEATED, a newsletter for people pissed off about the climate crisis, and, after just four months, is already bringing in six figures of annual revenue. 
The rock critic Robert Christgau wrote and edited at The Village Voice from 1969 until 2006. Since then he's been employed and then laid off by MSN Music, Medium, and Vice's Noisey vertical. The subscribers he's attracted to And It Don't Stop since starting in September are now paying him more than he earned at any of his other post-Voice outlets.
Sarah Bessey, an author and preacher, turned a monthly MailChimp newsletter into a Substack community that, in the space of a few months, has blossomed into a business supported by thousands of paying subscribers.
We want to take this further. Now that the Substack ecosystem has grown to millions of readers, thousands of writers, and tens of thousands of paying subscribers, we believe the time is right to make it simpler for teams of writers to benefit from this model. 
In providing tools for group publications, we hope that more people will get involved in reading and writing on Substack. We'd love to see the creation of subscription publications that follow the example set by The Athletic, The Information, and The Dispatch, all of which demonstrate that it is possible to build strong media businesses in what is supposed to be the worst economic climate for news since the advent of the penny paper. 
We also hope that people see an opportunity to start a new generation of blogs in the tradition of The Awl, Boing Boing, and The Toast – except this time with subscriptions instead of ads as the monetization layer. 
In keeping with the Substack model, not all of this content has to be locked behind a paywall. In fact, we advocate that publishers make their best, most accessible work available for free, charging only the readers who want to go deeper for the full experience. This way, publishers can enjoy reach and a viable business model. 
What we've seen in the early days of Substack has convinced us that there is a promising future in which writers can flourish, readers can find wonderful experiences, and new communities can emerge based on shared understandings and goodwill. We are only at the very beginning, but we are starting to see that a publishing system that's based on subscriptions instead of ads can help make that possible. 
This is the internet we want. This is the internet that we are betting our company on. 
We'd love for you to bet with us.