Discover more from On Substack
Resources, news, and stories for and about writers. Written by the Substack team.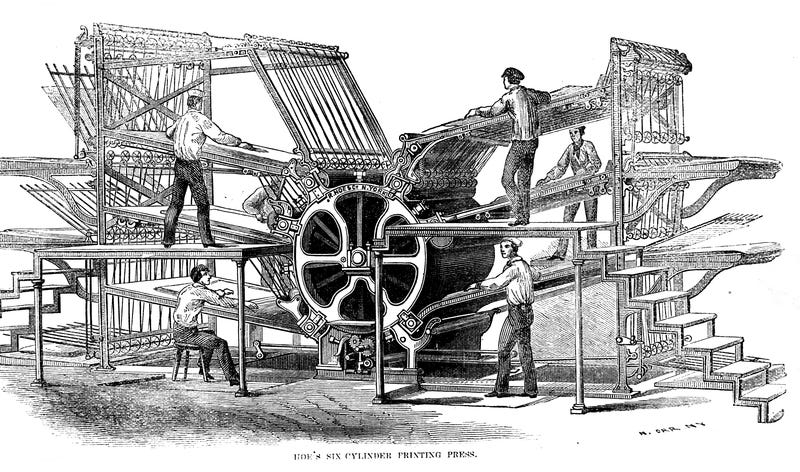 What follows is a list of Substack's features for subscription publishing.
In short: Substack is an all-in-one personal publishing platform.
In long: Substack gives you a website, an email newsletter, community features, and a home for your podcast. Also included: welcome page, home page, archive, about page, leaderboards, customer support, mailing list, payments, monthly and annual subscriptions, group subscriptions, gift subscriptions, complimentary subscriptions, rich media, and analytics.
Remember: all this is free. We only make money when you make money, by taking a cut of subscription revenue once you decide to turn on payments. It's win-win.  
More details, with examples, below!
Welcome page
This is what people see when they visit your Substack site for the first time. We hope they will enter their email address to sign up to your mailing list, but we also make it easy for them to skip straight to the content if they want.
Example from Written Out, by Kelsey McKinney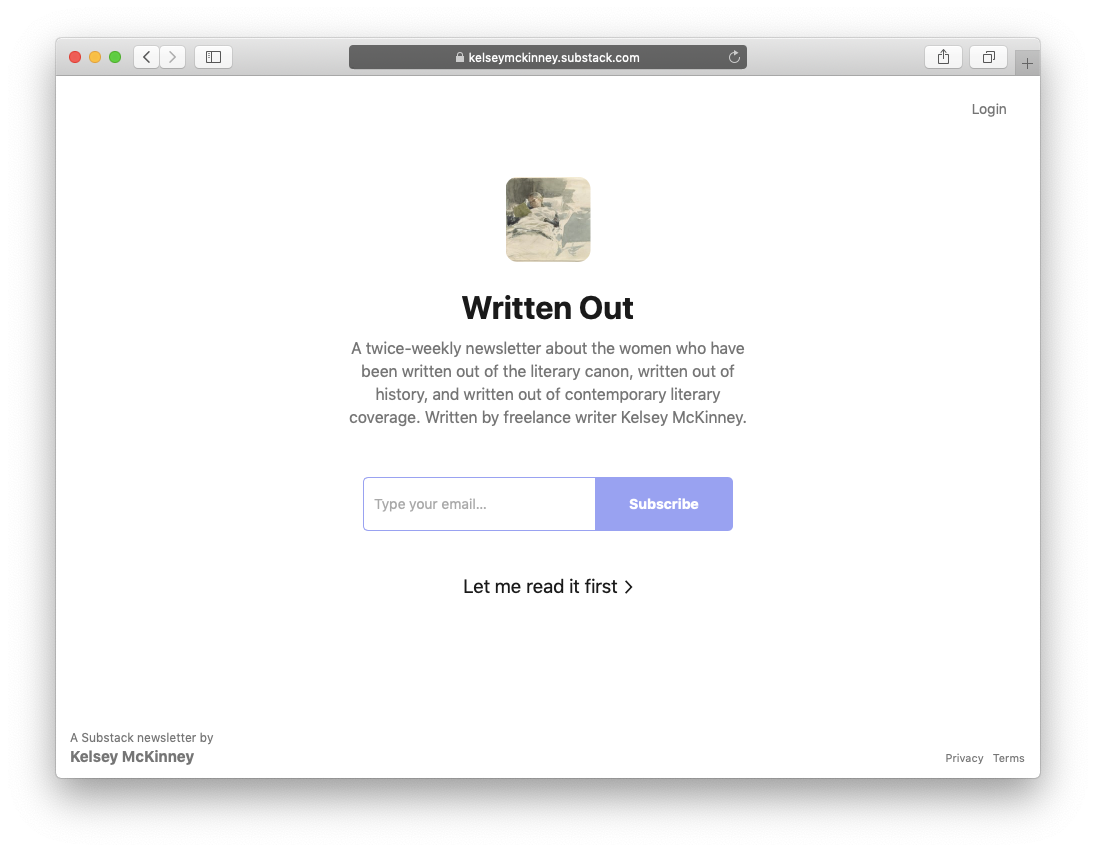 Home page (updated!)
On this page, people can see your most recent and top posts. Authors can pin featured posts to the top of their homepage. Subscriber-only posts show up as stubs to non-paying readers.
Example from Two Bossy Dames.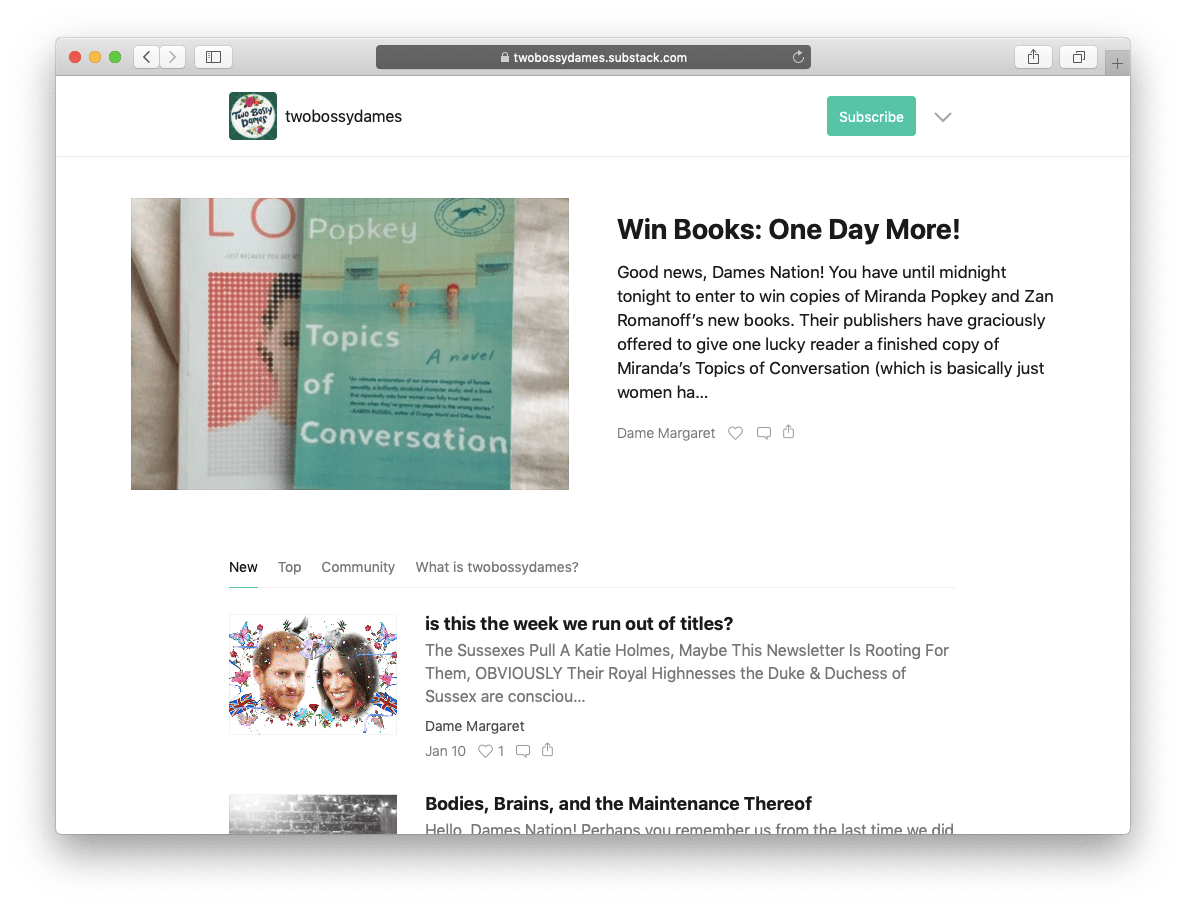 Archive (updated)
This lists all your work by date and top posts, and indicates which ones are public and which ones are only for paying subscribers.
Example from HEATED, by Emily Atkin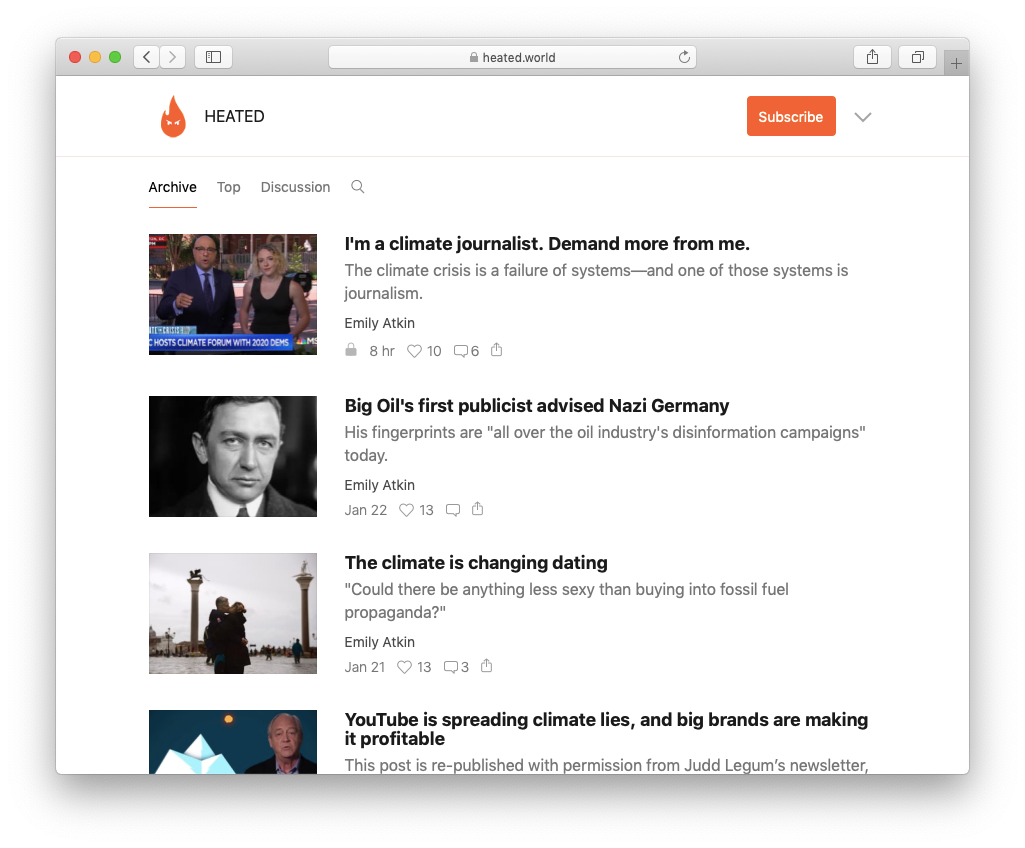 About page
Here you can flesh out your pitch to subscribers and explain what's so great about your newsletter.
Example from Popular Information, by Judd Legum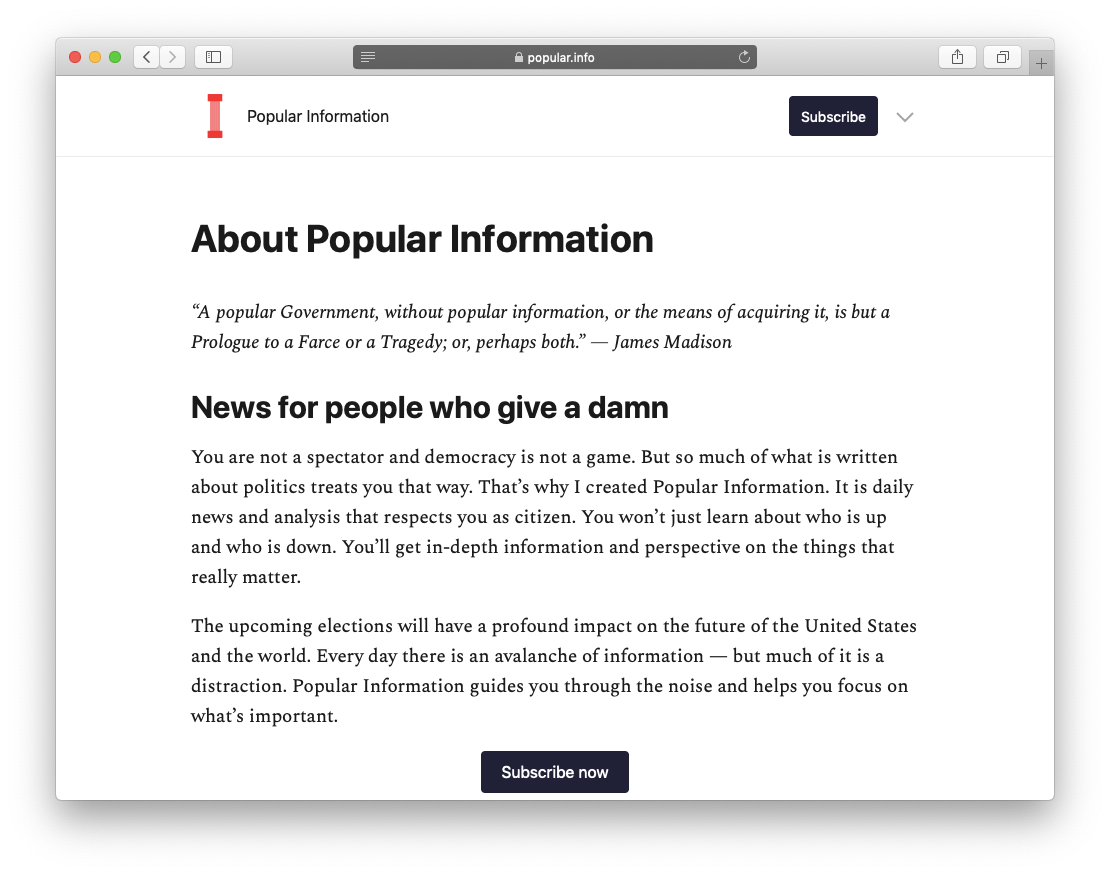 Leaderboards
A list of the top posts (by subscriber "likes"), top paid publications (by gross revenue), and top free publications (by active readership). The leaderboards help readers discover great publications, and they help publishers find new readers. See them at substack.com.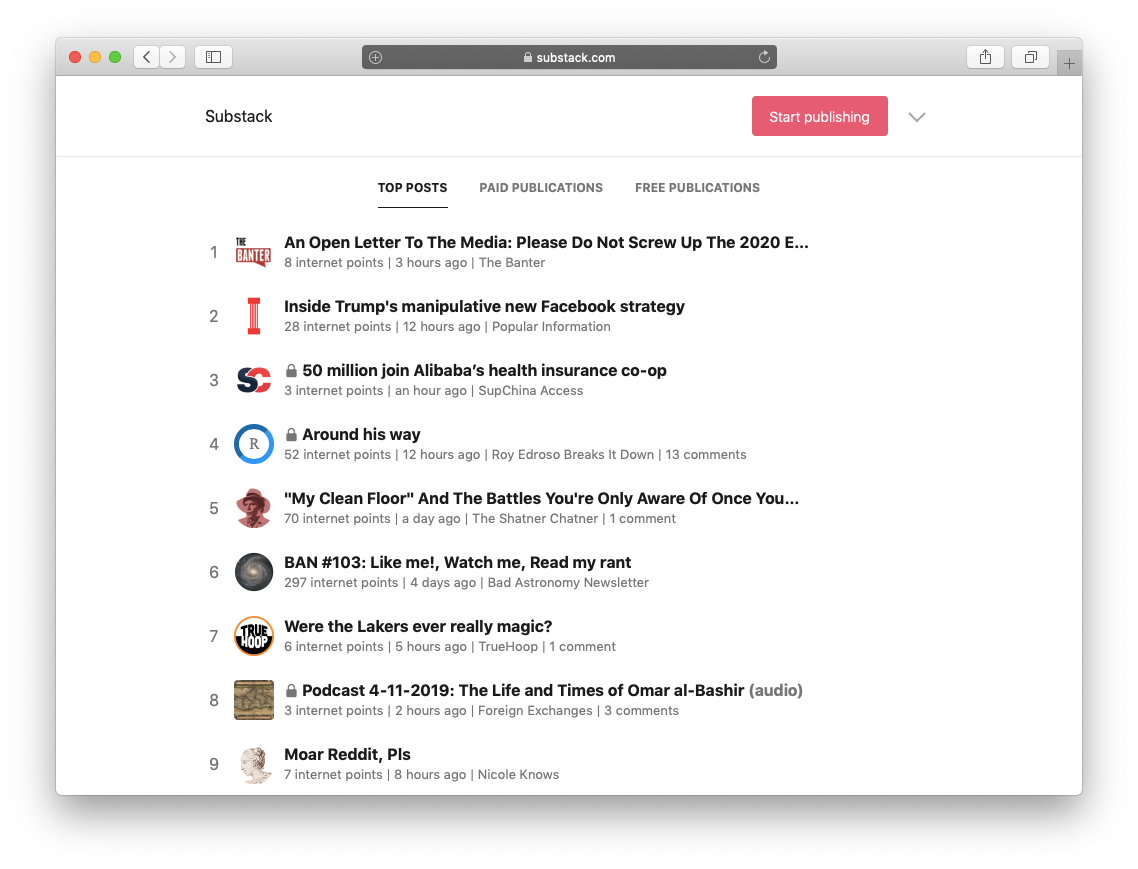 Publish free or subscriber-only posts
Each time you publish a post, you choose if it's free for everyone or only for paying subscribers.
Schedule posts & set preview text
Choose when your post will be published and set the text and image that will appear on your homepage and in social media previews.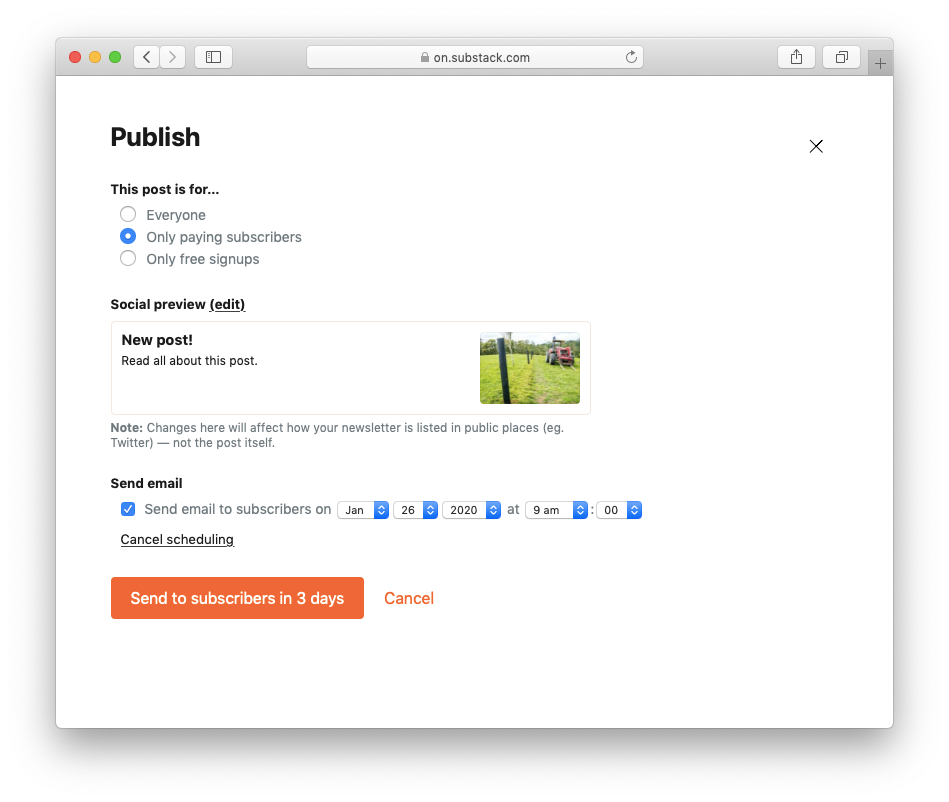 Community features
If you have community features enabled (via settings), readers can "like" your posts, which influences what appears on the "top posts" leaderboard. Paying subscribers can also participate in the comments under your posts. Even without these features enabled, though, readers can still reply to your newsletters and you'll get those messages in your inbox.
Also, we've introduced discussion threads, where you can host conversations with your community. Threads can be open to anyone on your mailing list, or only for paying subscribers.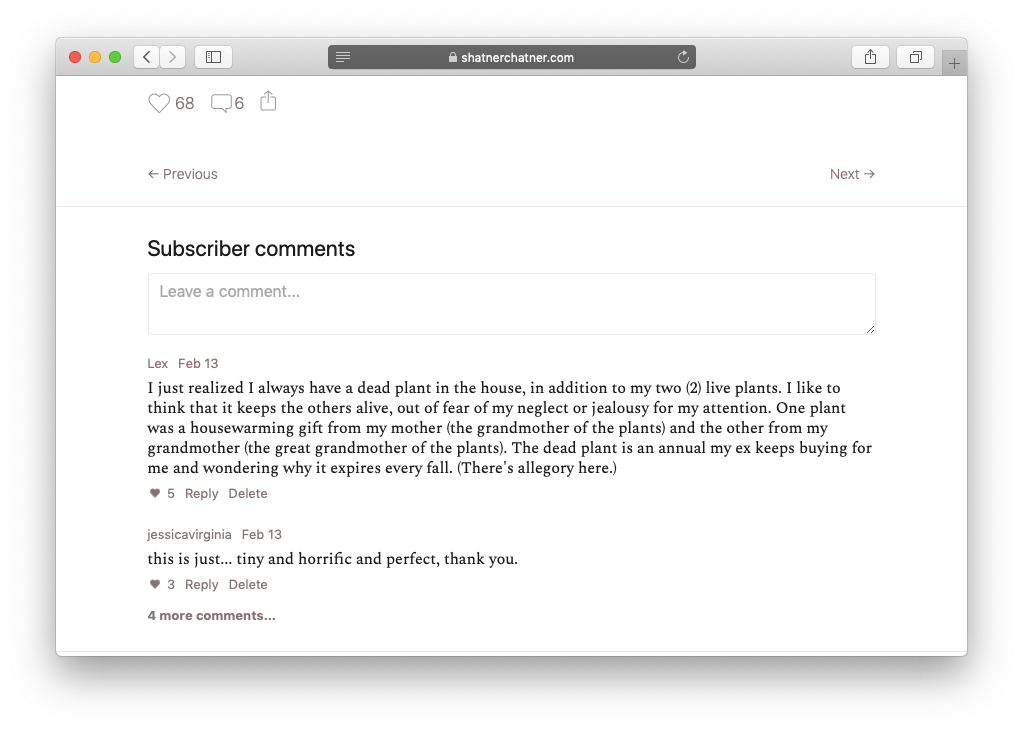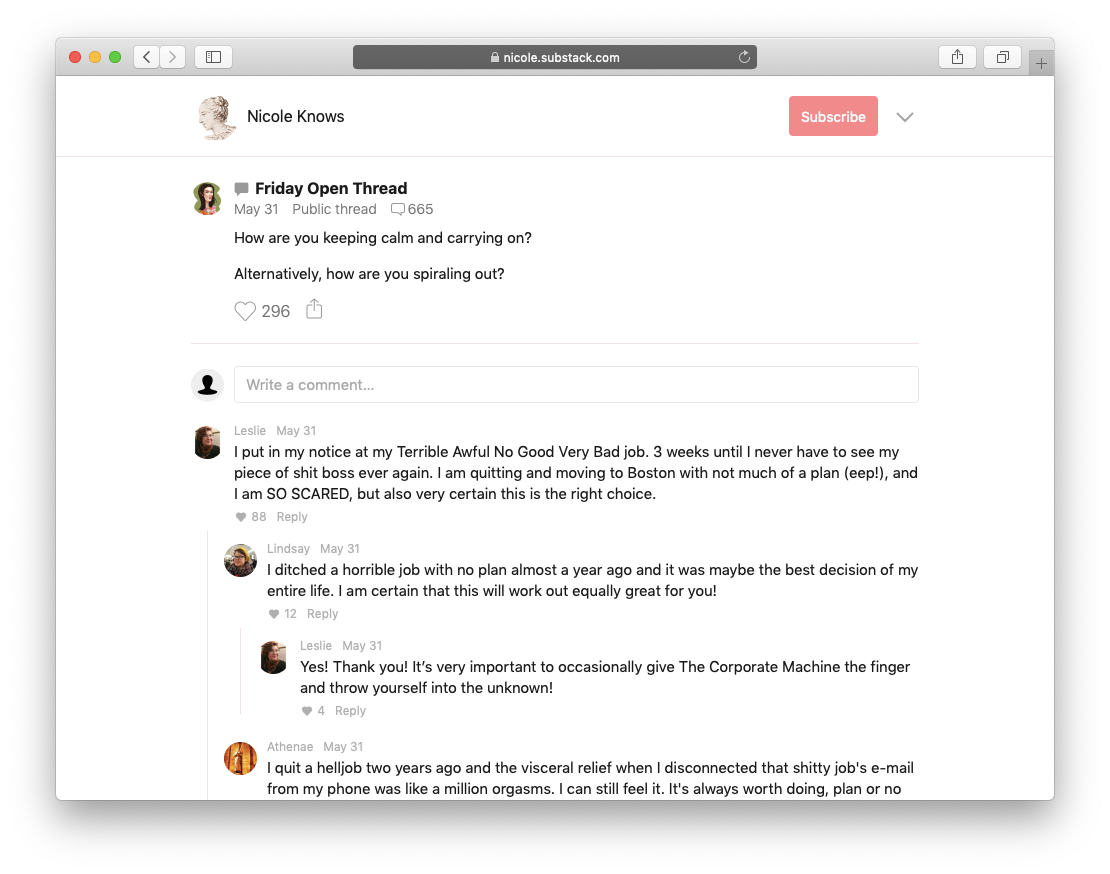 Podcasting
Upload an MP3 file or record directly into the editor. Click "Publish" and your episode (free or subscriber-only) will go everywhere: to your mailing list, your site, and into all the podcast players. Substack is the simplest way to distribute your podcast, and it comes tied to a mailing list and the best monetization option: subscriptions.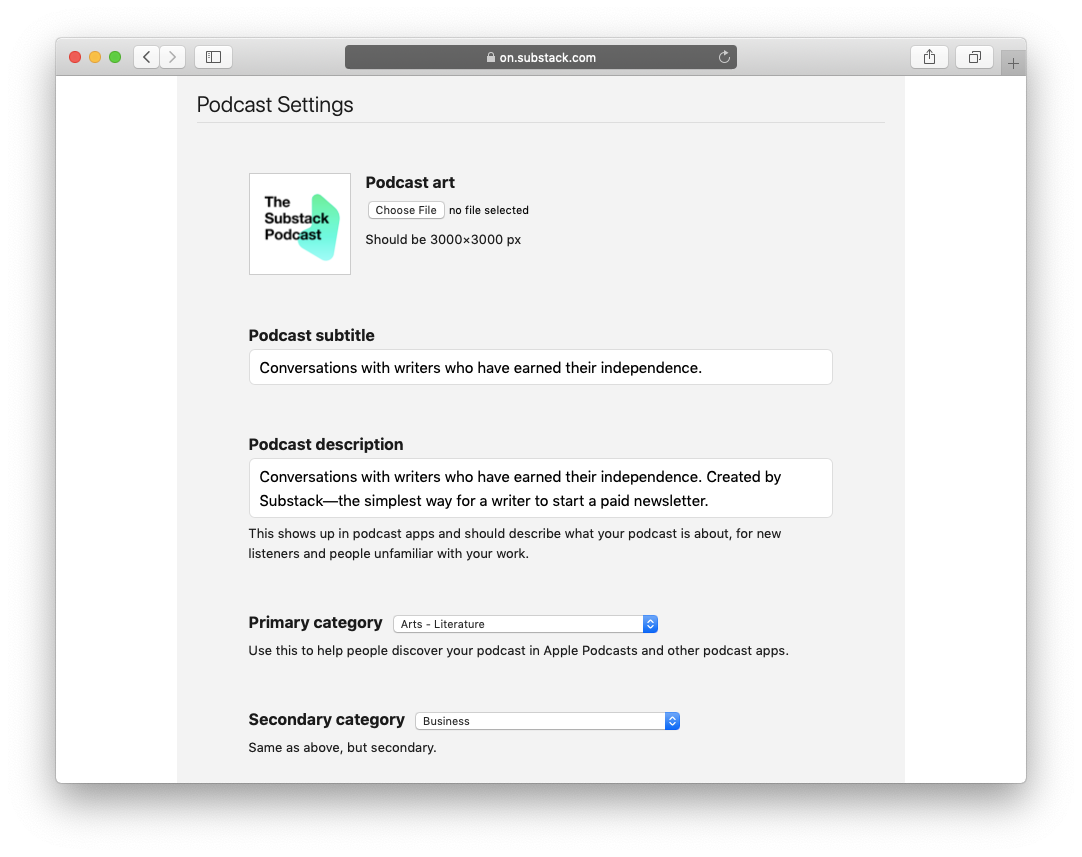 Customer support
If people encounter problems with their credit cards or logins – or whatever else comes up – we solve the problems on your behalf via support@substack.com.
Mailing list
You can build a mailing list through Substack and take it with you at any time. If you already have a mailing list, you can import it via settings with the click of a button.
Payments
Once you've connected a Stripe account to Substack, we manage your payments reliably and securely. Payments arrive in your bank account within 48 hours of each transaction.
Annual and monthly subscriptions
Your subscribers can subscribe monthly or annually. It's a good idea to offer annual subscriptions at a discount.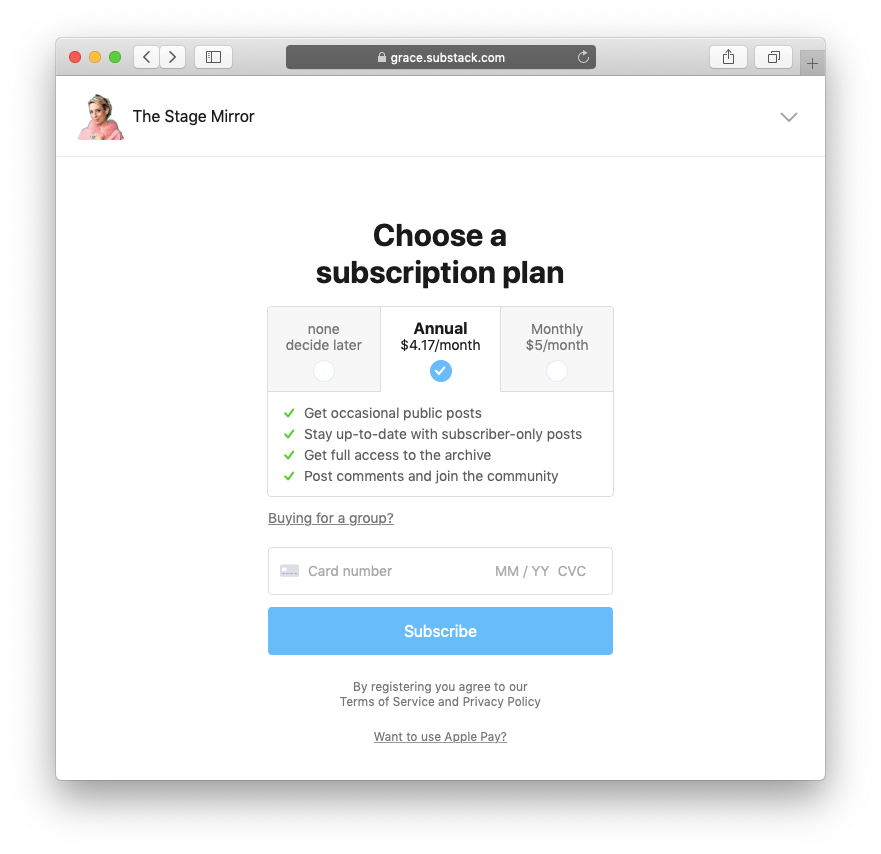 Group subscriptions
If you think that organizations, companies, or other institutions might want to buy multiple subscriptions for their members, you can sell group subscriptions. An administrator can sign up and pay for multiple subscriptions through a special page on your Substack site.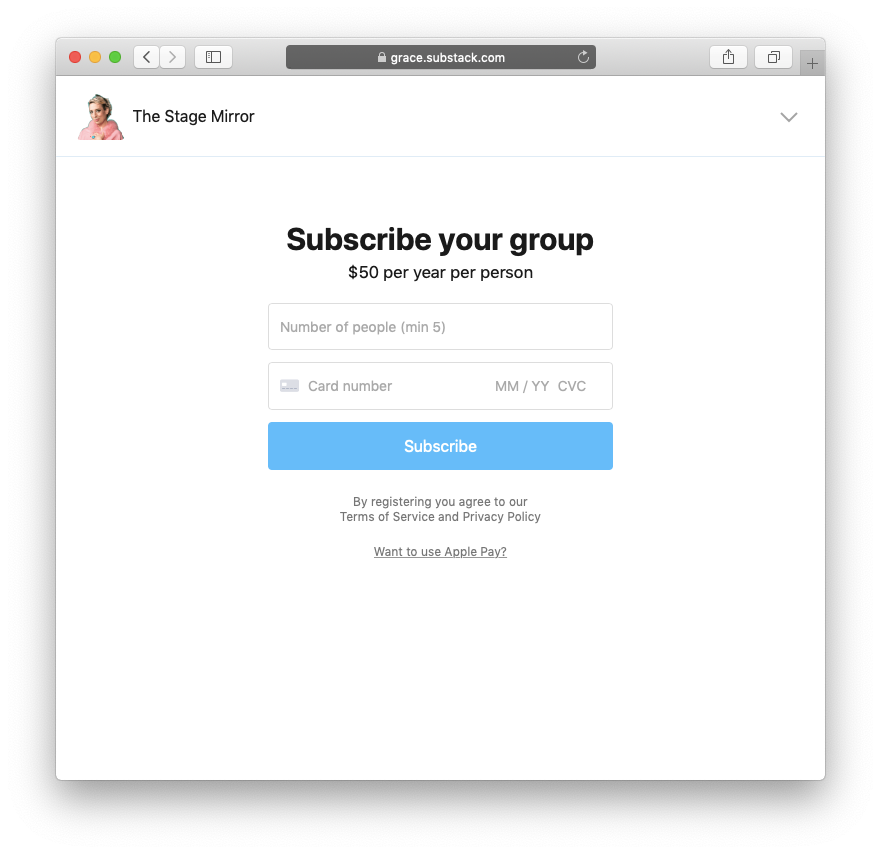 Gift subscriptions
Anyone can buy gift subscriptions to your publication for their friends via your.substack.com/gift.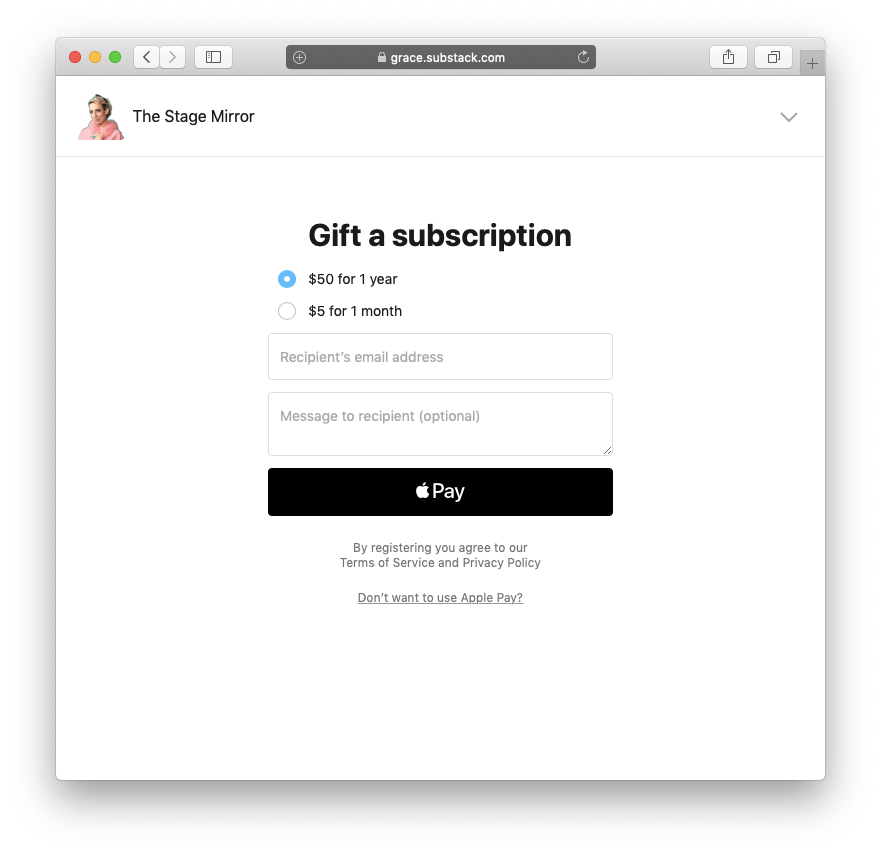 Complimentary subscriptions
As a publisher, you can give free subscriptions to whoever you want via the settings page in your dashboard.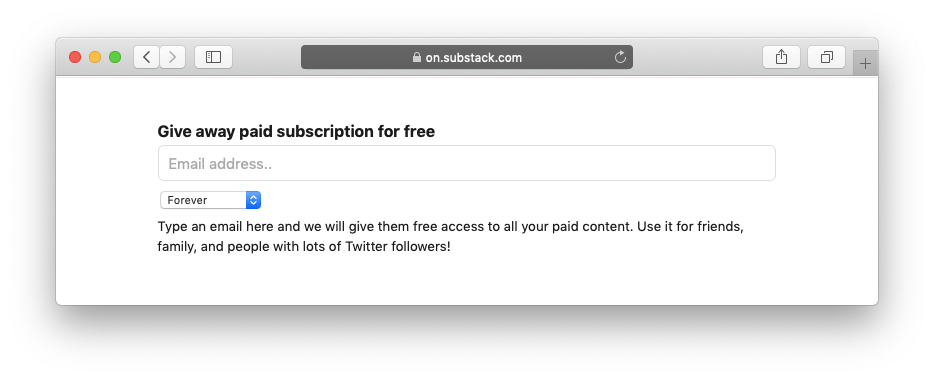 Rich media
It's easy to embed YouTube and Vimeo videos, Spotify tracks, and tweets into your posts. Just copy-and-paste the relevant URLs and the embeds will appear like magic. You can also drag-and-drop images and gifs.
Example from S/FJ by Sasha Frere-Jones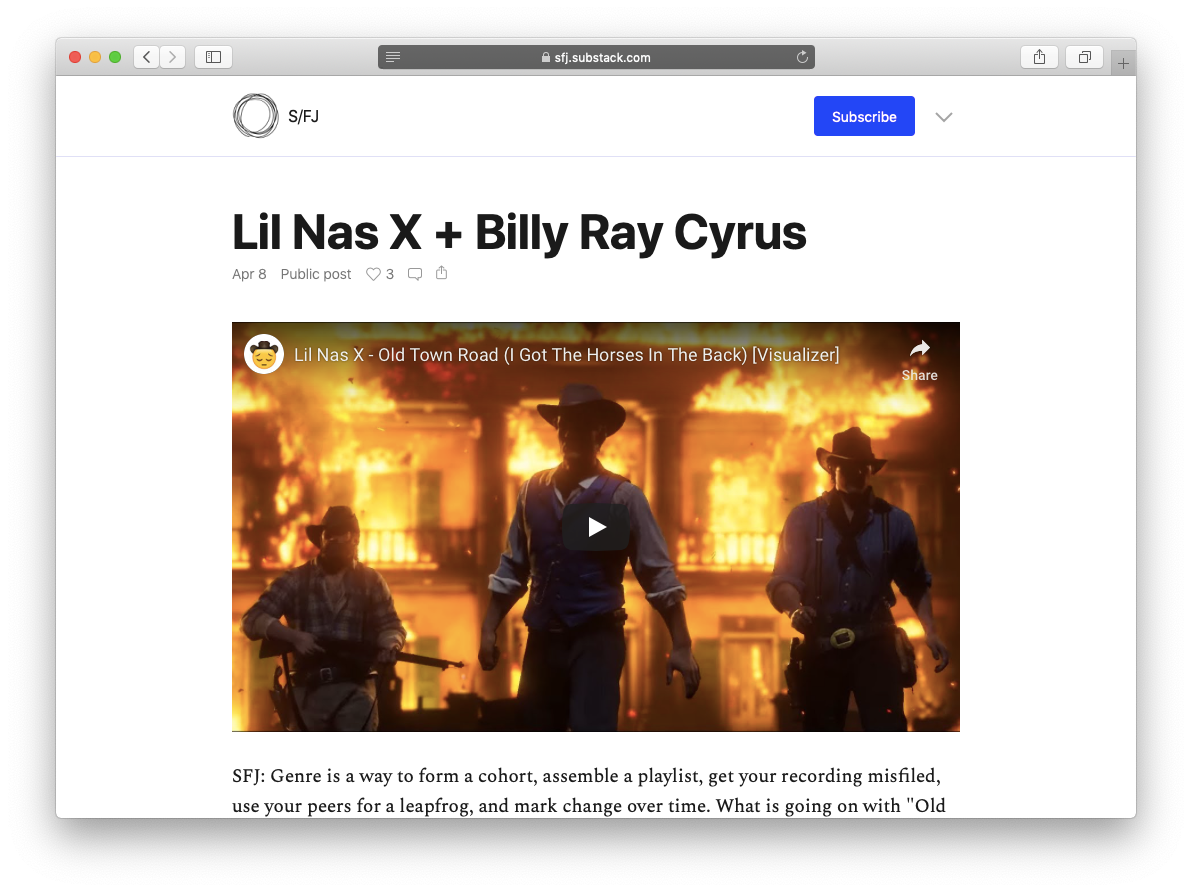 Analytics
Our suite of custom analytics shows you how many times your posts are being read, where your subscribers are coming from, who your most active readers are, how much money you're making, and much more.
UPDATES
Also now available:
Got questions? Suggestions? Please leave your feedback in the comments.