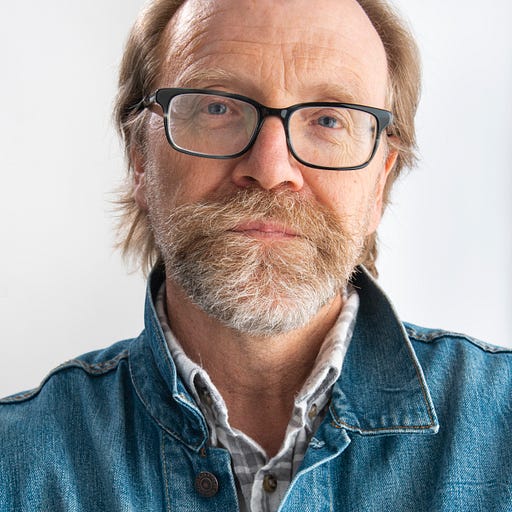 Dec 2, 2021 • 31M
George Saunders, welcome to Substack
He describes Substack as "social media purified by conscience"
Conversations with writers, bloggers, and creative thinkers about how they got here. Produced by Substack, a place for independent writing.
We are pleased to announce the launch of Story Club, a new Substack by beloved author and teacher, George Saunders. With its unique, educational, community-oriented structure, Story Club will offer a masterclass in storytelling and the craft of short fiction.
The concept is modeled after Saunders' latest book, A Swim in the Pond in the Rain, in which he unpacks a handful of short stories by four of the great Russian writers, considering how their stories work and why they move us. Saunders serves on the faculty of Syracuse University's MFA writing program; the book was inspired by a class he teaches on the Russians.
With Story Club, Saunders and his community of readers will run with that idea, focusing on a new story each month. The selections will extend well beyond the borders of Russia, and Saunders will also invite his community of readers to help steer the curriculum. "I'm really excited about the spontaneous nature of this," he said in our conversation, "and the fact that I can keep track of everybody in real time a little bit, and just as I do... at Syracuse, tailor the next class to meet what they need. So I think we'll see stories from all over the world. I'm sure we'll get to some fairy tales. In class, I'll often use bits of movies and TV, because that's a really interesting form of storytelling."
Story Club's posts will include essays and observations by Saunders, lessons on the elements of fiction, writing exercises, and interactive community features.
Saunders' writing program at Syracuse admits less than one percent of applicants, only six students per year—MFA programs are by nature tiny and exclusive—but he sees Story Club as an attempt at democratizing graduate writing programs, or, as he puts it, "simulating a version of the MFA through Substack." The privilege to study fiction alongside one of its greatest living practitioners has been available to only those fortunate few students each year at Syracuse, yet now, through Story Club, it is possible for anyone to join the community.
Saunders has kept his distance from social media—"I don't do social media, because I don't like it." He describes Substack, in comparison, as "social media purified by conscience" and feels that it's the right place for an endeavor like Story Club, "because [here] we're all self-selected. This is a club based on mutual respect… I think the danger of social media is that you're always feeling the pressure to say something right now. And with Substack, if I get organized enough (which I'm going to), it means that I can be starting something now, and when it's ready, when it really has something to say, then I can release it to this self-selected community… The idea of being in some kind of real-time, quasi-personal touch with my readers is really exciting to me."
Along with the community-driven exploration of great stories, Saunders' Substack will also include his personal newsletter writing, and he plans to answer reader questions on craft and the writing life.
Saunders expects Story Club to serve as "a conduit between my readers and myself" and to reaffirm that "this writing life is not impossible. There are real people on the other end of books. It's all about communication, and it goes in both directions. Part of what I offer my students is sort of a demystification of the whole thing. Yeah, it's really hard. It takes everything you have. It obsesses you in every aspect of your life. But it's also not impossible. And it's a continuation of something you've been doing your entire life, which is trying to engage other people in your particular mode. I joke with my students that we're trying basically to refine our charm: How are we charming, and how can we get more so, in prose? Sometimes I think the best thing a writing teacher offers is a little bit of positive reassurance. Just to say, It's not impossible; you can improve… The real baseline ethos of Story Club is that idea: that we can all participate, and it will make any life better."
Podcast editing and production by Seven Morris